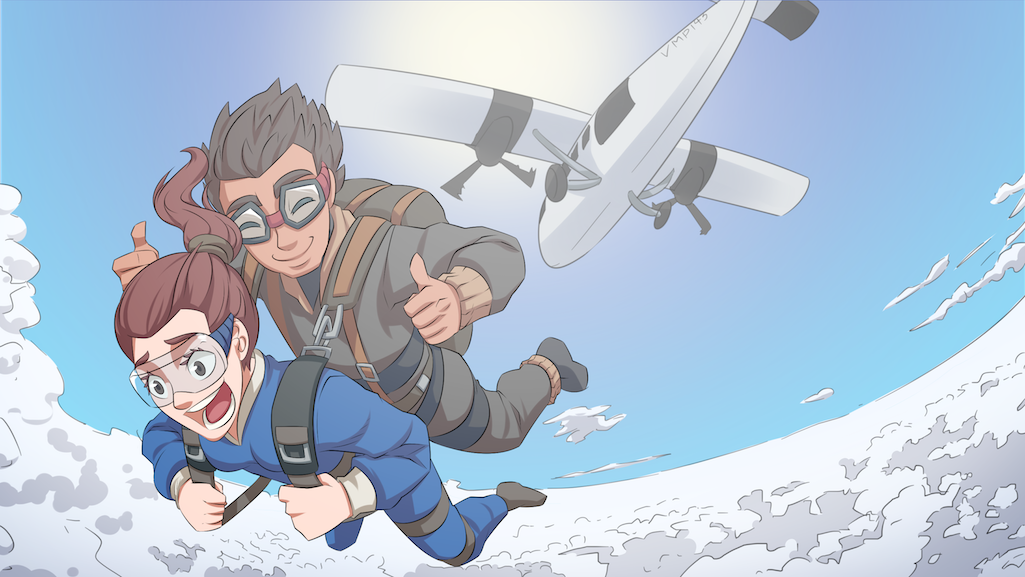 Cayendo Hacia La Tierra – Falling Towards Earth
Beginner Spanish Short Story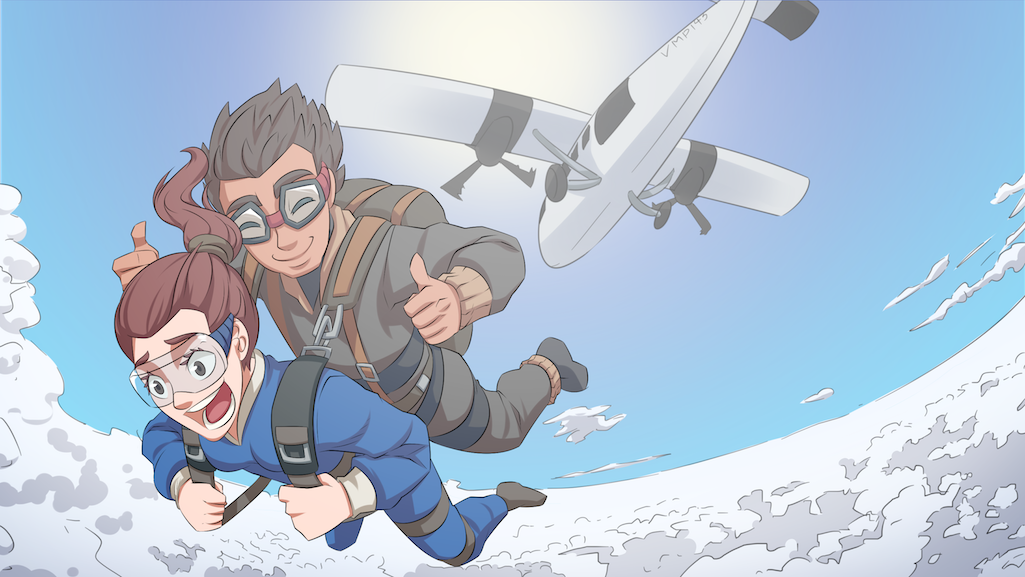 Cayendo Hacia La Tierra – Falling Towards Earth
Beginner Spanish Short Story
Estoy preocupada. Estoy asustada. Muy, muy asustada. Hoy, tal vez, voy a morir.
Mi hermano siempre dice que es muy divertido. En este momento, no se ve divertido. Parece una mala idea.
I'm worried. I'm scared. Very, very scared. Today, maybe, I will die.
My brother always says it's a lot of fun. Right now, it doesn't look like fun. It seems like a bad idea.
¿
Por qu
é
saltar de un avi
ó
n?
¿
Por qu
é
caer por el cielo?
Acá, en la oficina, todos estan felices. Ellos estan bromeando. Yo estoy sudando. Y ahora es hora de ir.
Why jump from a plane? Why fall through the sky?
Here, in the office, everyone is happy. They are joking. I am sweating. And now it's time to go.
Caminamos hacia el avi
ó
n. Me siento. Mi instructor pregunta si estoy bien. Digo que estoy bien, pero es mentira. Me siento nerviosa, me siento enferma.
We walk to the plane. I sit down. My instructor asks if I'm ok. I say I'm ok, but it
'
s a lie. I feel nervous, I feel sick.
El avión despega del suelo. Vamos alto y más alto. Me preocupo más y más. Miro fuera de la ventana. El suelo se ve lejano.
The plane lifts off the ground. We go higher and higher. I get more and more worried. I look out the window. The ground looks far away.
Mi instructor toca mi hombro. Dice que es momento de movernos a la puerta. Intento pero mis piernas no funcionan. Me arrastro hasta la puerta.
My instructor taps my shoulder. He says it's time to move to the door. I try but my legs won't work. I crawl to the door.
Él hace el último chequeo de seguridad. La puerta se abre.
¡Uff! Corre aire frío dentro del avión. ¡El ruido es tan fuerte!
He does the last safety check. The door opens.
Woosh! Cold air races into the plane. The noise is so loud!
Mi instructor esta detr
á
s de m
í
. Yo estoy sujeta a
é
l. Nos sentamos en la puerta. Nos movemos hacia adelante, y aún m
á
s adelante. Ahora estoy colgando fuera del avi
ó
n.
Mi estómago y mi mente están enloqueciendo.
My instructor is behind me. I am attached to him. We sit at the door. We move forward, and further forward. Now I am hanging out of the plane.
My stomach and mind are going crazy.
Uno, dos
…
y estamos cayendo
…
y
…  
me encanta.
De repente, el miedo desaparece. Me siento increíble. No estoy asustada, estoy riendo. Siento que estoy viva. Grito con emoción. Es increíble.
One, two… and we're falling… and… I love it.
Suddenly, the fear disappears. I feel amazing. I'm not scared, I'm laughing. I feel like I am alive. I yell with excitement. It's unbelievable.
El paraca
í
das se abre. Dejamos de caer. Todo esta en calma. Flotamos suavemente hacia la tierra.
Miro el increíble paisaje. La vista es hermosa.
The parachute opens. We stop falling. Everything is calm. We float gently towards the ground.
I look at the amazing scenery. The view is beautiful.
El suelo viene cerca y m
á
s cerca. Aterrizamos y estoy lista. Lista para ir de nuevo.
The ground comes closer and closer. We touch down and I'm ready. I'm ready to go again.
Read more Elementary stories on the Snappy Spanish app



10 Powerful Ways To Learn Spanish PDF Download
10 Powerful Ways To Learn Spanish PDF Download