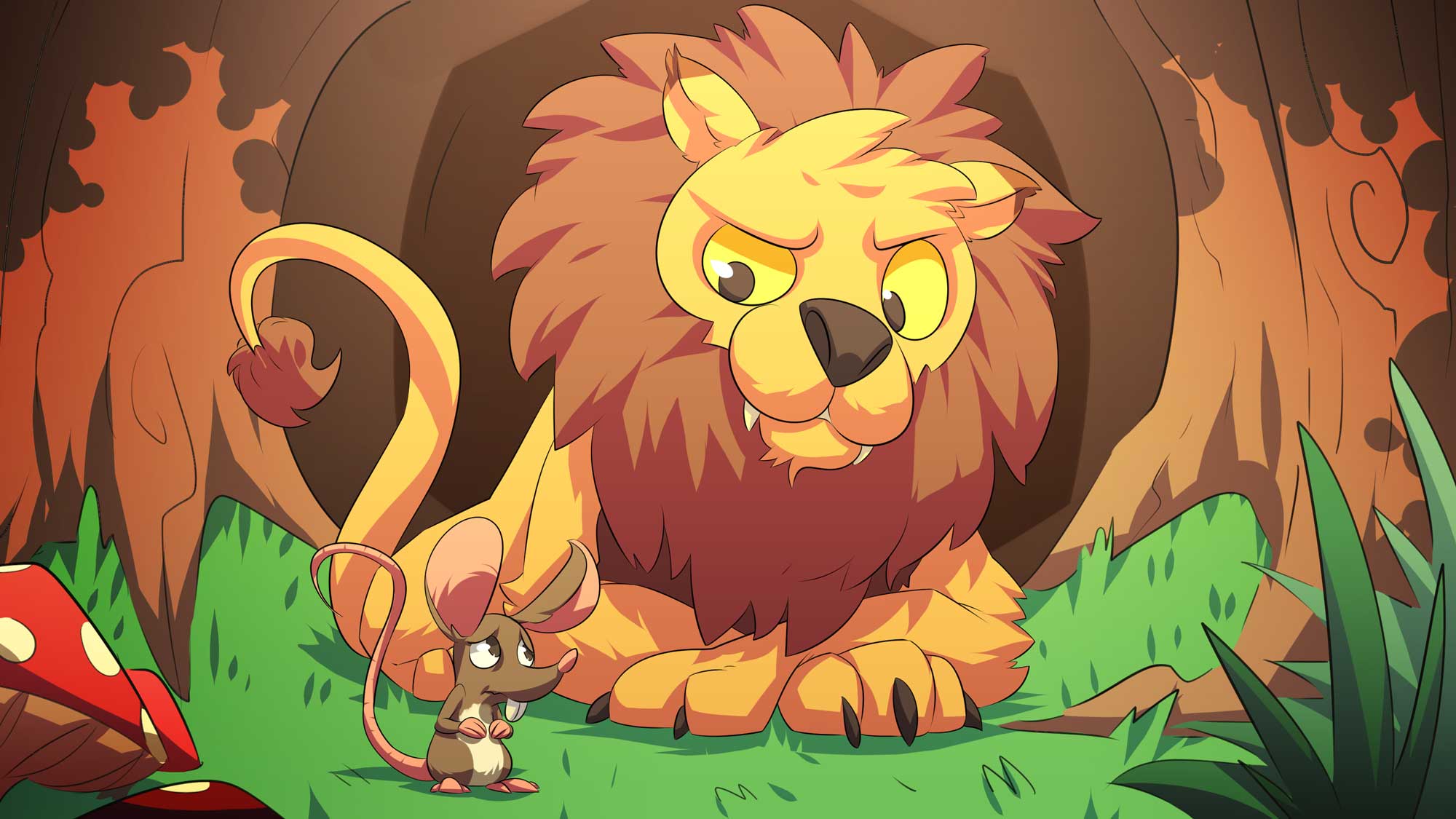 Un Héroe Improbable – An Unlikely Hero
Intermediate Spanish Short Story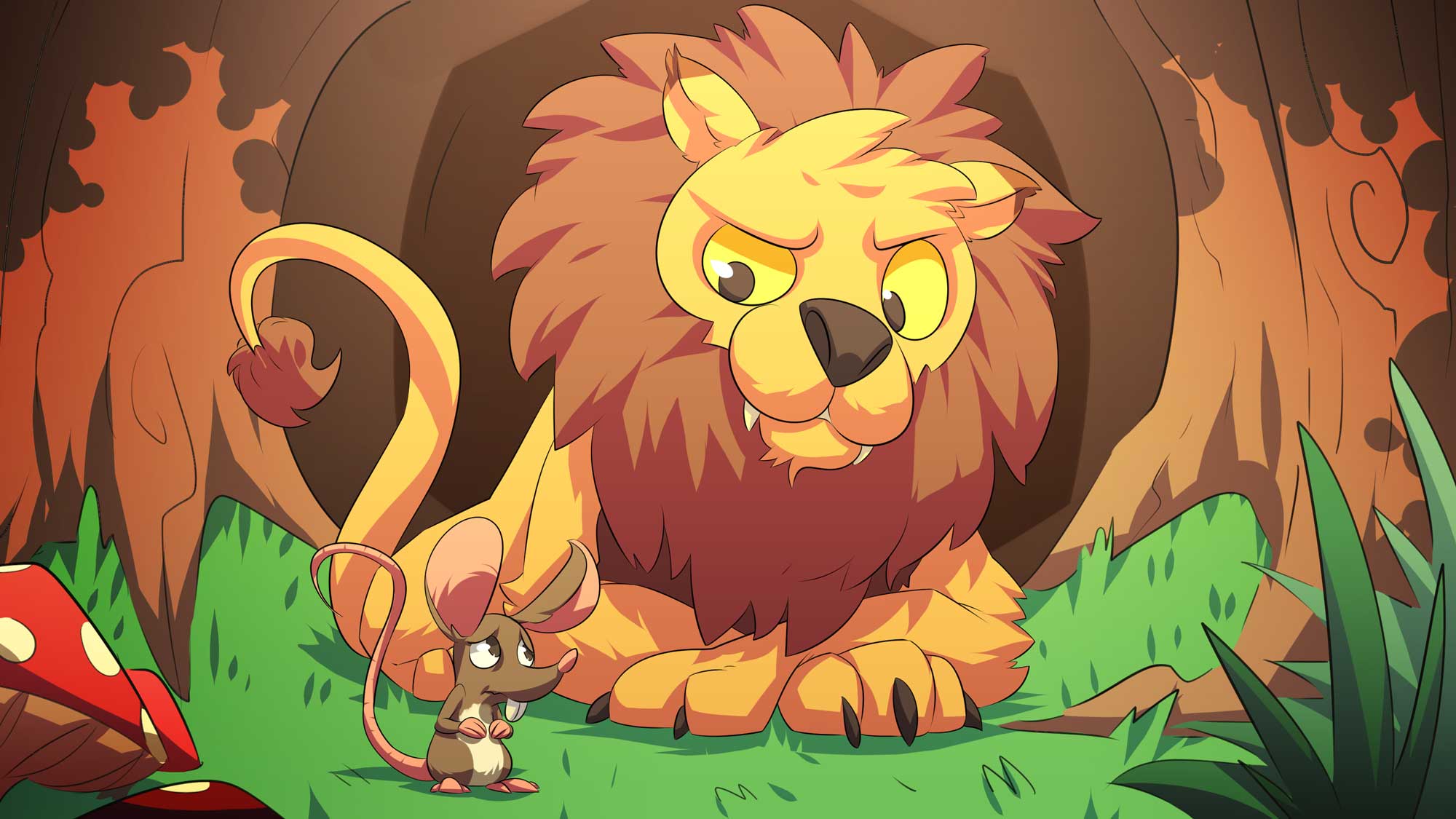 Un Héroe Improbable – An Unlikely Hero
Intermediate Spanish Short Story
Un d
í
a, un le
ó
n se fue a dar un paseo por la selva cuando empez
ó
a sentirse cansado.
One day, a lion was going for a walk through the jungle when he started to feel tired.
Era un d
í
a caluroso as
í
que pens
ó
escapar del calor y tomar un descanso bajo un gran
á
rbol.
It was a hot day so he thought he would escape the heat and take a rest under a large tree.
Mientras dorm
í
a con su gran cabeza descansando sobre sus patas, una peque
ñ
a y t
í
mida ratona se acerc
ó
inesperadamente.
As he slept with his great head resting on his paws, a timid little mouse came upon him unexpectedly.
Ella intent
ó
ser cuidadosa y no hacer ning
ú
n ruido.
She tried to be careful and to not make a noise.
Con miedo y prisa por irse, su cola hizo cosquillas accidentalmente a la nariz del le
ó
n.
In her fright and rush to get away, her tail accidentally tickled the lion's nose.
Despierto de su siesta, el le
ó
n puso su gran pata sobre la criatura diminuta para matarla.
Woken from his nap, the lion laid his huge paw on the tiny creature to kill her.
"¡
Perd
ó
name!
"
rog
ó
la pobre ratona.
"
Por favor, d
é
jame ir y alg
ú
n d
í
a seguro te recompensar
é
.
"
"Spare me!" begged the poor mouse. "Please, let me go and someday I will surely repay you."
"¿
C
ó
mo podr
í
as ayudarme alguna vez?
"
le pregunt
ó
el le
ó
n con una voz muy profunda y poderosa.
"
Soy el rey de la selva.
"
"How could you ever help me?" asked the lion in a very deep and powerful voice. "I am the king of the jungle."
"
Sí, yo s
é
que usted el rey,
"
replic
ó
la ratona con voz temblorosa,
"
pero yo siempre cumplo mi palabra, y si usted me perdona, yo debo recompensarlo un d
í
a. Adem
á
s, soy tan peque
ñ
a que no soy ni un bocadillo para usted.
"
"Yes, I know you are the king," replied the mouse in a shaky voice, "but I always keep my word, and if you spare me, I shall repay you one day. Plus, I am so small I am not even a snack for you."
El le
ó
n pensaba que era divertido que una ratona pudiera alguna vez ayudarlo. Finalmente, fue generoso y dej
ó
que la ratona se fuera.
The lion thought it was funny that a mouse could ever help him. Finally, he was generous and let the mouse go.
Algunos d
í
as despu
é
s, mientras acechaba su presa en la selva, el le
ó
n fue atrapado en la red de un cazador. Incapaz de liberarse a s
í
mismo, llen
ó
la selva con su rugir furioso.
Some days later, while stalking his prey in the jungle, the lion got caught in a hunter's net. Unable to free himself, he filled the jungle with his angry roaring.
La ratona reconoci
ó
la voz y, r
á
pidamente, encontr
ó
al le
ó
n luchando en la red. 
The mouse knew the voice and quickly found the lion struggling in the net.
Ella corri
ó
hasta una de las grandes cuerdas y la mastic
ó
. Pronto, la cuerda se rompi
ó
y el le
ó
n qued
ó
libre.
She ran to one of the big ropes and chewed on it. Before long, the rope broke and the lion was free.
"
Te re
í
ste cuando dije que te recompensar
í
a,
"
dijo la ratona.
"
Ahora ves que incluso una ratona puede ayudar a un le
ó
n.
"
"You laughed when I said I would repay you," said the mouse. "Now you see that even a mouse can help a lion."
– La amabilidad nunca es desperdiciada.
– A kindness is never wasted.
Read more Intermediate stories on the Snappy Spanish app



10 Powerful Ways To Learn Spanish PDF Download
10 Powerful Ways To Learn Spanish PDF Download